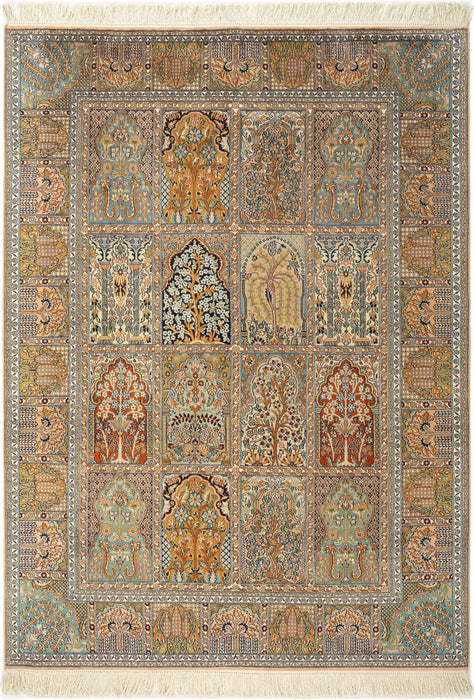 5x7 Garden Silk
Garden designs are elegant rugs that are delicate in design and will enhance your home with a timeless statement for many generations.
Garden design are rugs with rectangular compartments containing floral motifs.
The earliest of such rugs comes from the seventeenth century represented Safavid gardens.
Gardens, like today, were treasured highly in the Middle World (Persia and Central Asia) due to the arid land.
The Avestan term for such a garden was pairadaeza. Derived from the modern Persian word firdaws (ferdows).
The more familiar English pronunciation of the word is paradise.  
Colour: Multi+
Material: Pure fine Silk on a cotton base. 

Dimensions: 5'02" x 7'06"

Construction: Hand Knotted. Made in Kashmir, India. 
Indo's premium hand-knottted rugs are incredibly resilient to stains, due to high-quality natural materials.
Please take advantage of our 48 hour test-drive service to see items in your home in Calgary.  Call us at 403.229.0156 to book an appointment.